Submit your site for Rick's Café Rockin' Site Award!
This award is open to all sites...Enter your name...Email address...and the URL of your site in the form below. I will view your site and if you win i will email you the code for your award. Just remember this award is not easy to win and will not be given just because you apply. Your site has got to Rock....
Some things i look for in a Rockin' Site are:
Music~Poetry~Arts
Cool Graphics
Easy Navigation
Made with WebTV
Site Design
HTML
Your site MUST have some advanced form of HTML. Some basic editor sites with exceptional content may be considered for the Rockin' Site Award!

Sample Award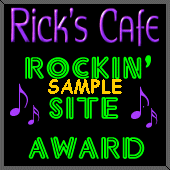 If your browser (IE) does not support forms, you can submit your site, with award as subject...email addy...name...url of your site...and comments via email to: roknrik@yahoo.com
top